Description
S-Beam load cell for applications such as weigh scale, hopper, tank level, truck scale, crane, tension, and force measurement. These aluminum load cells can be used to measure compression and tension and are easily mounted on top and bottom with SAE threaded holes. For metric mounting holes, please see the STB line of loadcells.
Other capacities and configurations available – please
contact us with any questions.
STA S-Beam Aluminum Load Cell Features:
Aerospace Aluminum
Meets OIML and HB44 III Standards
Cable Length: 20 ft.
STA S-Beam Aluminum Load Cell Specifications:
Rated Output (R.O.): 2.0 MV/V ± 1%
Zero Balance: ± 2% of R.O.
Non-Linearity: 0.02% of R.O.
Hysteresis: 0.02% of R.O.
Non-Repeatability: 0.02% of R.O.
Creep (1 Hour): 0.05% of Load
Insulation: > 5,000M Ohm
Input Impedance: 385 ± 30 Ohm
Output Impedance: 350 ± 4 Ohm
Safe Overload: 150% of F.S.
Ultimate Overload: 200% of F.S.
Compensated Temperature Range: -10 to +40 °C
Operating Temperature Range: -40 to +80 °C
Temperature Effect on Output: 20 ppm/°C of Load
Temperature Effect on Zero: 20 ppm/°C of R.O.
Recommended Excitation: 10V DC/AC
Maximum Excitation: 20V DC/AC

Pinout :
Red + Excitation; Green + Signal;
Black – Excitation; White – Signal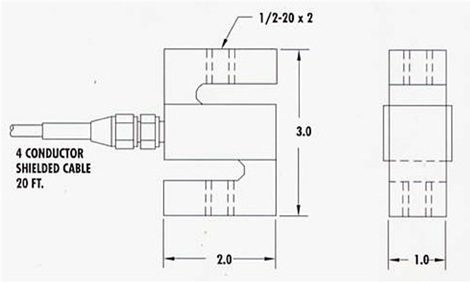 *All dimensions are in inches