Search Knowledge Base by Keyword
When the Show Must Go On, Load Cells Help it Go Safely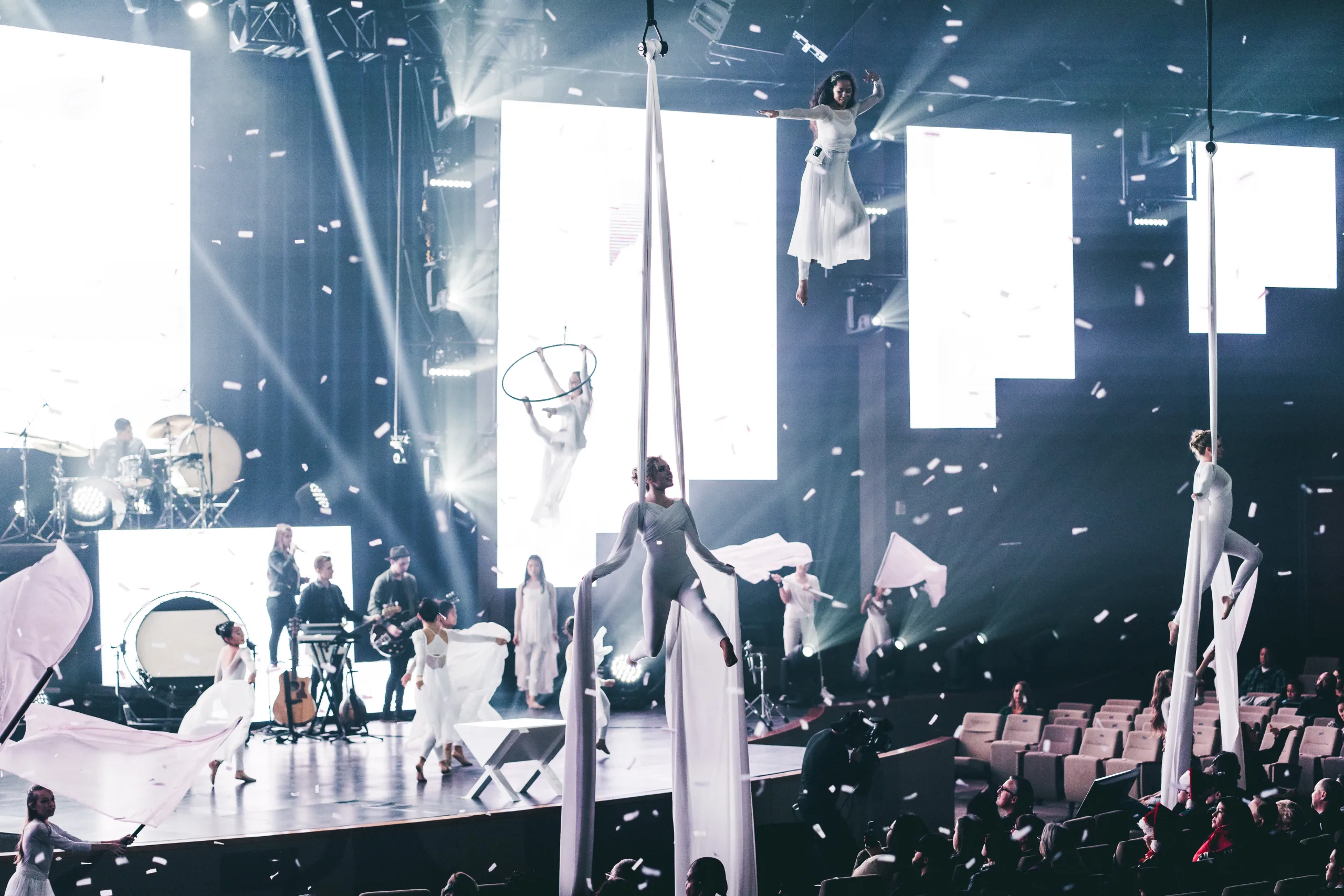 Theatergoers are familiar with moving sets – trap doors that lower and raise set pieces and actors themselves, sliding "walls" and "buildings," moving vehicles, flying witches or chandeliers. This stage magic happens night after night, usually without incident despite the inherent dangers. Since 2004, Creative Conners has been working to simplify the automation of these theater set features while making them even safer. Proud to be one of their trusted suppliers, Tacuna Systems is pleased to share their story.
The Beginnings of Creative Conners
In 2004, Gareth Conner had become frustrated with the options for theater set automation that he'd encountered in the field. Determined to create a better solution, he combined his theater experience with his programming talents to found Creative Conners. In 19 years, the team and the company's facilities have grown considerably. But the goal has remained consistent.
A Better Solution
Gareth's goal was to build tools for theaters that would easily and safely move scenery to create the exact visual experience that creatives wanted. The idea was to sell accessibility – that is, to let artists create visual effects for live performances that did not require advanced technical knowledge. The solutions would automate movements within any scripted window of time and could be triggered manually or in an automated sequence.
The result was a set of equipment that has evolved into the company's current product line – a suite of modular devices that can be used alone or in combination to move set pieces in any number of ways. Stage elevators raise and drop floors. Rotators spin turntable floors, donut" floors (concentric spinning floor components), and walls or panels. Lateral movers slide suspended features like panels or curtains and floor set pieces like carts or walls across a stage or set. Last but not least, hoists lift and lower panels, props, or people!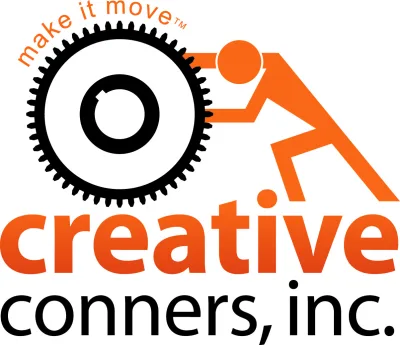 Complementing these components are manual or programmable controllers and safety devices. The latter constantly monitor data from sensors built into the mechanical components, informing alert systems and emergency stops. These mitigate the inherent hazards of large set pieces moving quickly around moving people.
"Each tool is like a paintbrush," says Peter Veal, Director of Business Development. "We work with every customer to understand their vision—we translate that artistic vision into products."
All components are modular, meaning they can be reused multiple times for different performances. Each show simply requires a new controller sequence and new physical connections between the mechanical elements and the different set pieces. This means the same equipment can build safer set automation into multiple shows!
Safety to the Next Level
Creative Conner's approach is to perform a risk assessment for every automation project and determine where things could go wrong. They then integrate feedback sensors into key mechanical components to mitigate potential hazards by alerting the operator or fully stopping the effect's motion. According to Peter, "we think, 'what are the likely consequences?' and use data to give the technician the power to safely move the equipment, flag alerts and stop the machine BEFORE the problem happens."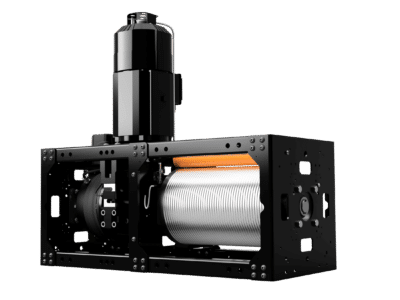 In 2022, the Creative Conners team set out to redesign their Spotline hoist device (pictured) with an integrated sensor to better detect overload and underload conditions (which may indicate a set element is caught moving upward or down, respectively). According to Peter, the main issue was fitting a load cell within their very specific design constraints. It needed to be small enough to fit into a narrow space yet able to produce a reliable signal with good resolution readable by their existing controller.
They researched 11 options and finally settled on the Amcells STL Series S-type load cell from Tacuna Systems. The load cell not only fit their narrow parameters of space and performance, but Tacuna's engineering team was very responsive to their questions. Equally importantly, our delivery time was fast enough to get their system up and running in time. "The service component and lead time are as important as the technical specs," said Peter. "Our clients need their solutions by a strict deadline – you can't push back the opening date of a show. The client has sold tickets, and they need the equipment for rehearsals." To Creative Conners, this responsiveness – shipping on the date promised, and getting fast answers to questions—is critical to their business.
From Sandstorms to Moving Screens
The scale of venues where the company's solutions appear varies widely. Some of their smallest clients are TV studios, particularly national network programs. Their goal is to move screens or props in and out of view on command with interesting effects. And these are the effects where safety is especially important. In TV studios, people and props share tight spaces and effects often happen in no particular order. Also, unlike in a theatrical performance, each set movement can happen spontaneously, unscripted. This requires sensors for each effect since people may be in unpredictable locations each time. "We bake safety into each effect," stressed Peter. "For example, we may use pressure mats to sense if something or someone is in the way and prevent an effect from happening."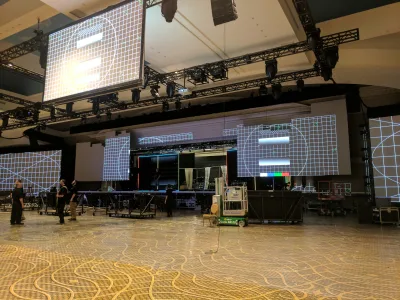 One of the largest automated effects that Peter recalls is a pre-pandemic project at a cultural entertainment event in a Middle Eastern country. During one part of the event, the designers wanted four large (approximately 8×16 feet) platforms to "dance" in the air, with human performers tethered to them. To add to the effect, each platform would cascade "sand" off its edges as it moved. To create the effect, Creative Conners technicians connected the corners of each platform to hoists that would lower and raise slightly in synchronized succession. The platforms were covered in granules of crushed cork to emulate sand. Again, sensors were vital since the weight of each platform changed dynamically throughout the scene. They ensured the controllers had the data needed to maintain consistent movements throughout the performance despite the change in weight. This also ensured the performers' safety for the effect's duration.
Creative Conners, Now and Tomorrow…
According to Peter, the company has doubled in size in the past nine years. He estimates about 80% of regional theaters in the US now either rent or own their solutions. But they also have appeared in many university theater programs that are intent on preparing their students for the technical realities in the field. They also have solutions in churches, Broadway theaters, TV studios, film sets, concert venues, and at corporate events. "It's interesting how many corporations use effects for product launches," explained Peter.
Creative Conners continues to grow and expand. And Tacuna Systems looks forward to continuing to help them bring safe solutions to their customers, on time, every time!